Rodney Alcala is a convicted serial killer whose raping and tortured killings of four women has resulted in a death sentence. Rodney Alcala raped one woman with a claw hammer. Yet the spurious criminal justice system that rewards convicted killers with lifetime jail sentences has upset many members of the general, let alone the victims and their friends and families. Rodney Alcala was sentenced in 1980 for the killing of a Huntington Beach woman. Additional victims of Rodney Alcala have stretched legal court proceedings to the present day.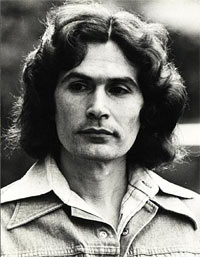 Caught raping an eight year old girl in 1968, Alcala served thirty four months. The nature of Alcala's crimes are savagely violent, premeditatively abusive, and sexually motivated in origin. Alcala struck down men, women and children in his twisted lust for episodes of torture, rape and abduction. Channeling a rage or lust unknown except in the most vicious of serial killers, Alcala's propensity for murder was matched by his cunning in enticing victims. Alcala's "shtick" was the use of a camera and the pose as a photographer to capture the attention of victims and build enough trust to lead them astray.
The March 2010 sentencing of Rodney Alcala for the Orange County murders stems from killings from the 1970's. Common to the cases of serial murderers in America of this era, development of legal DNA evidence brought Alcala's career at large to a halt. Alcala is suspected in the strangulation death and disappearances of many other victims. Alcala's habits make law enforcement professionals dread the existence of other undisclosed victims both as bargaining tools and further proof of his serial killing deeds. Even among the most brutal and vicious serial killers, Rodney Alcala stands apart.
Like many secretive killers with a method for concealing the bodies, Alcala may be waiting for bargaining room in the appeals phase of his trial proceedings to proffer knowledge and proof of additional deaths. Historically serial killers have negotiated proof of additional murders for tradeoffs in sentencing and incarceration conditions.Yet Alcala may have over thirty additional murders to reveal. As Alcala furnishes material an argument for his appeals to his current and most recent sentence, news media and the law enforcement community will be listening closely for hints of further proof of serial killings.
Alcala may be guilty of thirty or more murders. Lack of forensic sophistication in crime scenes, casual evidence gathering techniques by American law enforcement, aging witnesses and evidence, and the mores of the times allowed for many people to disappear into the web of Rodney James Alcala. Apprehended in the late 1970's, Alcala is still defending himself in law courts in legal proceedings today.
This era in American history remains the 'golden era" of serial killers. Rodney Alcala is thought by some investigators to be possibly among the most prolific of American serial killers because he was smart enough to shield his activities and elude the law. Alcala "warned" the jury in his recent trial that sentencing would cost the state and public a huge amount of money due to planned appeals and additional legal processes.
Alcala is one of many American serial killers whose reign of terror went largely unnoticed in the United States of the 1970's. Development of DNA evidence coupled with exacting legal proceedings are a element in many American serial killer histories. In the typical celebrity phase of many serial killers, a penned letter attributed to Alcala has been put up recently for sale on Ebay. Profilers of serial killers note the similarity to other murderers like the Green River Killer and Ted Bundy.
Rodney Alcala once appeared on the American television show 'The Dating Game' and has manifested an eagerness to self-substantiate an identity as a notorious serial killer. Alcala's favorable rulings to shield his prior sexual criminal history from new case trials and his "career" as a celebrity defendant has made segments of the American public sensitive to Alcala's evasion of a jail sentence or death penalty.
The day after the jury voted for the death penalty for serial killer Rodney James Alcala, more than a hundred photographs of Alcala's were released. The female women and children pictured in 1970's era photo poses and shots were of individuals composed by Alcala. Law enforcement officials found these photos among materials more than 30 years ago in a storage locker of Alcala's. Circumstances show Alcala rented it just as police were closing in on him for killings in 1977-1979. Continued legal setbacks to Alcala's incarceration and execution have vexed victim's families and opened new scrutiny into the American legal system.
Alcala is thought to be an intelligent man, crafty enough to legally represent himself yet not smart enough to dispose of the kind of trophy photographs sociopath killers are known to keep. Trophy jewelry from multiple suspected victims found among Alcala's belongings helped convict him of the murders. Alcala was the first man in a dozen years to represent himself for a death penalty trial. Alcala was born in 1943, and is self-possessed enough at 66 to argue his own cases in front of juries. Yet despite a newly announced death penalty sentence, Alcala's path to justice for his culpability for his serial killings is far from over.
Photos hidden by Alcala may point to more killings. Media release of photographs of a putative series of killing victims has launched an investigation by law enforcement into unknown or unidentified victims of Alcala not previously linked to him. It is now suggested that Alcala may have murdered three women in New York City in the 1970s. But legal proceedings for these crimes and allowing Alcala more time in the courtroom spotlight is a troublesome matter. Court trials and extradition would be excessive and complex, freeing a clever killer from everyday incarceration to entertain more jury members representing himself. And like the families of victims and the general public, prosecutors may elect to leave Alcala to his death sentence without further circus acts.
While convicted to date for only five murders, Alcala may be responsible for as many as 100 murders during his killing spree.
Article by Roy Whyte . Visit his Google+ page for more.