Clifford Robert Olson Jr
Serial Killer Clifford Robert Olson Jr – Child Killer
Born in Vancouver British Columbia on the first day of January 1940, Clifford Robert Olson Jr killed a total of eleven people before being caught.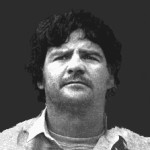 From a young age, Clifford Olson was in trouble with the law. Olson was a known bully who it was rumored tortured and killed animals. By the time he started killing, he had spent long stretches in jail for crimes ranging from armed robbery to fraud.
Clifford Olson's first victim was twelve year-old Christine Weller. Her body was found strangled with a belt and repeatedly stabbed.
Olson was married in May 1981, but by then had committed a total of three murders. It was around this time that Olson fell under police suspicion of child molestation, but there was never enough evidence to charge him.
Only four days after his wedding, Olson abducted and then murdered 16-year-old Sandra Wolfsteiner. He would murder yet again the very next month, this time killing a 13-year old.
By now Olson had began to increase the pace of his killings. In the month of July 1981, Olson would claim six more young victims, none of whom were over the age of 18. It was this varied range of ages and sexes that at first made him hard to catch, but police early on suspected a serial killer was at work.
Owing to the severity and sheer stunning pace of the murders the entire Greater Vancouver Area was on edge. Parents were extremely cautious and the murders were on everyone's mind as suspicions ran high. Extra police patrols targeted schools and routes taken by children with the aim of warding off another murder. Sadly there was to be one more.
Clifford Olson's final victim was Louise Chartrand aged 17. She was killed with a hammer on July 30 1981. Olson buried her body in a shallow grave.
Due to his extensive criminal record, Olson quickly became a prime suspect in the murders and disappearances of young adults in Greater Vancouver. He was questioned by police but released for lack of evidence. But Olson did himself in when he was caught and arrested for attempting to abduct two girls.
Olson confessed to eleven murders on the promise that his new wife gets $10,000 for each murder he admitted to, and for showing police the locations of missing people he had killed. Families' desperately wanting closure agreed to this move and $100,000 was given to his wife. Olson gave the first location to police as a 'freebie'. Olson would be given 11 concurrent life sentences.
Clifford Olson due to Canada's legal system, was eligible for parole after a minimum of 25 years served. His first parole hearing occurred in July 2006 where his application for parole was denied. Olson was once again eligible for parole in 2008 and every two years after that – with each having been denied.
Having long been suffering with cancer, Clifford Olson died after his cancer metastasized. Federal government officials confirm that he died in a Quebec hospital on Friday Sept 30, 2011.
If you would like to do some more reading about Clifford Olson and in particular the RCMP investigation of him and his crimes you can check out Where Shadows Linger: The Untold Story of the RCMP's Olsen Murders Investigation – which was written by a retired police officer. This book examines the investigation from top to bottom and gives much more insight into how serial killers are apprehended and the police work involved.
In The Mind Of A Mountie by author T.M. 'Scotty' Gardiner is another fantastic view into the world of police work and how they conduct their murder and other serious crime investigations – including material on Clifford Olson himself. This book details from an RCMP and legal view, the highly contentious money-for-bodies deal that Olson cut with authorities.
Article by Roy Whyte . Visit his Google+ page for more.