Washington D.C. is the American nation's capital, a paradise of security and armed forces presence and command. Yet in 2002, two men held the city captive while arresting pedestrian traffic with random sniper shots killing random victims with no warning. Indiscriminate selection of victims on the Virginia, Maryland, and Washington D.C. area roads. The random activities of the victims made for serious concern along all social strata.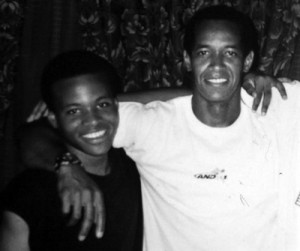 Local and Interstate 95 kept beltway commuters looking over their shoulder and scattering at the slightest sound. A manhunt failed to catch the killers for several days when the nation watched as gunplay entered into the public domain. The arrest and sentencing of two African American men would once again polarize racial tensions in the area. These would be later classified by some criminologist as hate crimes.
There was no religious affiliation, no gender bias in the killings. People sitting outside the post office or mowing their lawn are equally vulnerable to the sniper. The sniper's rampage of death was happening in the city, not isolated riverbeds or backwoods roads. "Stealth" poses at the gas pumps become normal to see in the forty mile area centralized in Montgomery County.
John Muhammad and Lee Boyd Malvo kept the people in the nation's capital watching their rear view mirrors and indoors for three weeks even in an age of media and satellite radar. Amazed Americans watched their news reports every night and marveled that a sniper existed in this day and age without being caught. Authorities desperately sought a way to end this beltway rampage holding so many in fear.

The killers were a pair of men who had determine to kill six people a day until their $100 million "ransom" was paid. Disorganized as to a goal but efficient at killing, the snipers had a custom rack mount on their vehicle to make shooting easier. The victims had no association with the killers, they were as disparate as a crafts store employee to a pizza maker.
The Beltway Snipers were so named because their target "hit" areas were gas stations and stores and parking lots connected around Washington D. C. by the Virginia Beltway. Random targets meant nobody was safe, and investigators and the public puzzled over why Washington D.C. environs were receiving the attacks. Ultimately the killers hoped the white demographic base of Montgomery County would suffer.
Was the killing politically motivated? Virginia residents and Washington D. C. beltway drivers began to weigh their drive in to work, wondering if they were taking their lives in their hands by that act alone. A trip to the gas station or being parked anywhere suddenly carried a death sentence for an unlucky few. The GPS and maps inside the serial killer vehicle indicated specialized focus for killing trips. Unseen targeting of unsuspecting victims was allowed from the interior plan of the attack car.
John Allen Mohammed, a black man of Muslim beliefs, had begun a spree of murder and robbery in Louisiana the month before the killings started in 2002. Shooting at John Gaeta in August, Mohammed injured him. The second shooting occurred in Maryland in September, where the shot man's laptop was later found in Malvo's car. Paul LaRuffa survived six shots. A few weeks later an Alabama woman was shot and killed while her co-worker was injured.
Serial killers have had problems getting the sentences they deserve due to inaccurate testimony, incomplete evidence, and other forensic foul-ups. Evidence from this early Alabama attack in particular helped convict the Beltway Snipers after they were arrested. Mohammed may also be responsible for a Baton Rouge killing of a man in this time period. Born in Antigua, John Allen Williams changed his name to Mohammed in an Islamic conversion.
Before making his way to sniper shots along the Capitol Beltway, John Allen Mohammed intentionally devised a scheme of programmed killing designed to take multiple lives on a schedule. After the first killing on October 2, 2002, five more victims were shot at on October 3, 2002. Local residents watched the news and looked aghast. Was nobody safe?
October was a dark month in the Washington D.C.-Maryland-Virginia area in 2002. Headlines and news report communicated that death was outside the front door no matter where residents might go. No ethnic group, race, age or gender victim was safe from being a target. October 4, 2002 saw a woman wounded in a parking lot near Fredericksburg. This was the start of a vicious spree of killings.
Then October 7th saw another shooting outside a school, followed by another on October 9, 2002 near a Manassas gas station, and then another at a gas station in the Fredericksburg area on October 11th, 2002. Capitol area residents couldn't go to the gas station, grocery store, or shop without wondering if they were taking their life in their hands. The lack of connection between the victims puzzled police and stymied investigators.
Then on October 14th, a woman was shot in Falls Church, Virginia. News reports had local residents scared to death, carpooling and watching in their rear view mirror on the roadways. On October 19th, 2002, a man was shot in a parking lot in Ashland, Virginia. A thirteen year old boy was killed after media reports stated that children were safe in schools.
Authorities attempted to open a dialogue using media channels with the sniper. Limited details are released to the press, claiming that the sniper has eradicated child safety anywhere in Montgomery County. The Tarot cards and the Deist messages built a controversy regarding the use of these details while the serial killings were occurring.
On October 19th authorities found a missive asking for a ransom. threatening the lives of children in the area, it asked for a hundred million dollars. the letter did not impress authorities as professional. Telephone calls, tarot cards, and erroneous reports of a white van were involved. Finally, on October 22, Conrad Johnson was shot at his bus in Maryland. Washington, D.C, press corps monitor the radio frequencies for police alerts on the case. Authorities were tipped off about the Alabama shooting.
Montgomery County and other agencies fell over themselves setting up roadblocks and cruising for likely vehicles. By this time a dark blue Chevrolet was targeted as the suspect vehicle. Roadblocks and witness interviews after the killings were filled with numerous red herrings. Nightly news reports in the Washington D.C. were tense body-count affairs. Yet the FBI traced ballistics and verified the involvement of John Allen Mohammed.


By October 24th, the Beltway Sniper had been identified as John Allen Mohammed traveling with a minor. Alerts about a Chevy Caprice notified an alert driver who spotted the car. two sleeping in the car were arrested as Beltway suspects. Post 9/11 laws were used to frame prosecutor charges in multiple counties. Mohammed had a U.S. Army past as well as a marriage with four children. The military weapon training honed Williams/Mohammed's aim and abilities.
Thought to be a single shooter by authorities, it was discovered that Mohammed had recruited a younger cohort to assist in the killings. Lee Boyd Malvo was a minor employed to help drive the car and look out for police or witnesses following their getaway. The vehicle seventeen year old Malvo drove was one local residents had grown to fear the sight of. Any van on the highway filled drivers with fear.
John Allen Mohammed was an ex-army sergeant who had attained sniper skills in the armed forces. Honorably discharged from the Army, he was born John Allen Williams in New Orleans in 1960. The forceful propaganda of the nation of Louis Farrakhan solidified the hatred bred in alleged abusive conditions while being disciplined in Saudi Arabia for bombing a tent full of soldiers.
Mohammed was able to execute successful killing sprees because the media had grasped the device of a "white van" that confused the public and media. Astonished investigators learned after Mohammed's arrest that he had been stopped by police and authorities yet released from scrutiny. The brief timetable of the serial killings and the waterfall of killings stymied the profiling model used by criminologists for serial killers.
The authorities reviewing the state of the case after the arrests of the killers observed that the public convinced of the "white van" motif had been led to disregard African-American men in a blue Chevy because the media has publicized a white van with a white driver doing the killings. Speculation about the D. C. sniper that was not factual may have cost lives.
Williams/Mohammed had come together after Mohammed had taken his family to Antigua. Malvo's mother had deserted him, and the warrior mentality and qualified pose of the Islamic messenger suited Mohammed's purposes. By visiting the United States, Mohammed planned to target wealthy, complacent white people enjoying civil freedoms and racial privileges hostile to the black community.
Malvo had attempted to contact police with information and proceeded to inform the authorities about other murders. Mohammed's fingerprint was found at the Alabama crime scene, and a witness came forward to the FBI hotline relating how an old Army buddy with a young Jamaican friend had used the term "sniper" during a visit. They had shot using a Bushmaster rifle during their visit. Media news reports had featured the Bushmaster gun in its coverage of the Beltway Sniper.
Absurdly, Lee Malvo had been trying to contact authorities at the same time, persevering through phone contacts. Yet antipathy between law enforcement agencies and public and press was loaded with disinformation designed to lure the killers forward. Journalistic distribution of the Chevy Caprice data assisted in the arrest of the killers. But many suspect that events might easily have caused the suspects to flee.
The analysis of the Beltway Sniper evolved to an identification of the two man team. While the over-forty Mohammed had the technical skills and weapons training, Malvo was suspected of being the more wily planner. The serial killings had intensely accomplished a spree of murders due to ambitious planning, instead of following the spiraling fantasies of a demented sexual-motivated serial killer murderer.
Mohammed was suspected of training Malvo in sharpshooting, and the intent to ransom funds form the government through a campaign of terror form the killings was identified form police investigations. Authorities observed that press notice and media reports fed the snipers' sense of power and intent. As in many cases of serial killers, confusion of the investigative techniques and coordination between the press and police affected the arrest date of the serial killers.
Mohammed's inability to obtain revenge against his ex-wife is thought to have impacted his decision to "adopt" Malvo and strike "back" at the general populace. Mohammed's ex-wife had moved to the D. C. area after a confrontation over child custody in the Pacific Northwest. In interviews she claimed that her husband had returned form Army service a changed person she did not recognize.
Analysts mused on the relationship between this man cut off from his children and the hero worship Malvo afforded Mohammed for participation in the killing/extortion plan. Malvos' use of a laptop to track the killings indicates a premeditation and planning not common to the average Jamaican teenager. The monetary aspect of the serial killing sprees was not as highly organized as the killing themselves.
Critics of the investigation pointed to charges of Lee Malvo as a juvenile as an error, as Malvo was capable of taking life as well as John Allen Mohammed. Mohammed was executed and Malvo was sentenced to life in prison without parole. Malvo exercised his right of appeal and rescinded all previous interviews and testimony for the 2002 murders. Mohammed appealed his verdict and sentencing and a debate over his fitness to represent himself legally arose after allegation of brain damage were raised.
In all they were convicted for killing at least 10 people on their rampage. Muhammad was executed by lethal injection, which took place November 10, 2009. Malvo continues to leak some information and that includes the notion that there may be more victims and other people involved in the killings.
Article by Roy Whyte . Visit his Google+ page for more.