Luka Rocco Magnotta
Luka Rocco Magnotta is currently before the Canadian court system after being extradited from Germany, where he was arrested reading about himself in an Internet cafe. Magnotta had fled Canada shortly after the murder of Jun Lin, a 33-year-old Concordia University student. Thanks to photos issued by Interpol, Magnotta was arrested June 4 in a Berlin Internet cafe, where a sharp-eyed employee recognized him.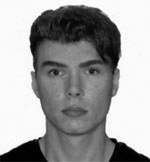 Luka Magnotta has plead not guilty to the first-degree murder and four other charges he is facing in the death of Lin. In his first Canadian court appearance June 21, 2012, Magnotta's lawyer chose not to request a psychiatric assessment. His next scheduled court appearance is for March 2013. According to Magnotta's lawyer, he chose not to fight extradition from Germany because he "trusts the Canadian judicial system".
Magnotta has requested that he be tried by a judge and jury.
Luka Magnotta was born with the name Eric Clinton Newman in Scarborough, Ontario. Magnotta would change his name to Luka Rocco Magnotta on August 12, 2006. He was also known to have used the name Vladimir Romanov.
Magnotta's crime hit the news waves May 29, 2012 after Jun Lin's torso was found in a suitcase outside an apartment in Montreal, Quebec. This gruesome discovery came on the very same day Lin's foot and hand were found to have been mailed to the offices of the federal Conservative and Liberal parties. Just days later, across the country in Vancouver, staff at two separate schools discovered Lin's other hand and foot had been mailed there as well. It's unknown why the body parts were sent to these particular destinations. Lin's head is still unaccounted for.
This is an article stub for Luka Rocco Magnotta.
Have something to add? Contact us or leave your addition in the comment section below.
Article by Roy Whyte . Visit his Google+ page for more.