The Chicago World's fair has a grandiose and sumptuous feel to it even in the 1880's suggesting grand hotels, formal dresses, and fancy mustaches. This Fair was to cast a positive glow over a city that regularly made headlines for violence, riots, and murders. Even the Mayor of Chicago was murdered on his own doorstep. But the reputation of Chicago still had bolgias to descend to, literally. The plan for the World's Fair was to keep the image of the city of Chicago somewhat attractive for future generations. But in the basement of the Holmes Castle a horror lay hidden.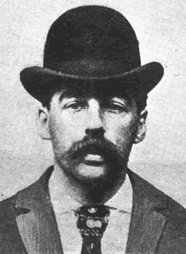 Yet during the 1893 Chicago World's Fair, a "Murder Hotel", run by a stunningly precocious serial killer, performed ritual murders with outlandish and elaborate equipment. The University of Chicago at Ann Arbor issued a medical license to one Dr. Herman Mudgett, who later renamed himself A. A. Holmes. Holmes would be the first and most stunningly inventive of the American serial killer pantheon. The story of the Holmes Murder Castle transcends mere crime history and succeeds into a new one: Americana Macabre.
While no serial killer is more infamous than Jack the Ripper, Chicago's nightmare had barely begun. In the shadow of the Whitechapel murders, a hotel offering White City lodgings did a brisk business in young female guests, secretaries, and romantic ladies. Camouflaged by the activity of the big city thriving, H. H. Holmes performed triple digit murders in an era where even a street attack would cause a sensation. The Mudgett episode is one of America's darkest.
Ironically, just as Sigmund Freud was introducing the superego and conscious to the thinkers of Eastern Europe, individuals on the other end of the planet were subduing it. Small town life and frontier romance had built new cities where elements of the metropolis included industrial malaise and immigrant labor. Uneducated women took what jobs they could get. Mudgett was an educated con man with charm, looks, and money to burn. He was also a monstrous serial killer.
(more…)