Donald Henry Gaskins was a serial killer of absolutely ugly dimensions who ruled the Deep South with an unimaginable terror. South Carolina was an unsafe place to be looking for a ride on the highway, especially from 1955 through to 1977. The target of Gaskins's murders was principally women, although the motivation is unclear. His early petty theft career landed him in dark places, where a career in murder soon started. An early marriage and parenthood didn't soften a lifetime of brutal aggression.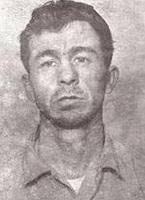 Gaskins started out life diminutive and not particularly brainy. But not every man five feet four inches commits serial murder. Adolescent assault on women triggered a reform school and incarceration climate where sexual abuse due to his size was unavoidable. But knowing how this might come to pass, why did Gaskins commit crime after crime that would railroad him toward the very confinement that would institute his sexual abuse? Gaskins did as much to pursue a path of positioning himself in abusive conditions as possible.
Gaskins claimed a deep hatred of women but the origin is not certain. Gaskin's killings were so numerous he is termed by many criminologists as a mass murderer. Did Gaskins' physique determine his outcome in life, or did his psyche merely condition him for a lifetime of misguided aggression to take the life of others? Was Gaskins headed down the road of a psychotic criminal and serial murderer no matter what his height?
Called "Pee Wee" for his physically diminutive stature, Gaskins was part of a set of boys known as the Trouble Trio and was soon committing burglaries and other crimes with them. One burglary too many resulted in a former schoolmate recognizing him, and the law intervened. Donald Henry Gaskins was a product of the juvenile home for boys called the South Carolina Industrial School for Boys. In this facility until age eighteen, Gaskins was sexually abused in a homosexual manner of rape. Yet his homicidal aggression does not stem strictly from this period.
(more…)