Jane Toppan was as violent a shock to nineteenth century America as the Manson murders would be almost a century later. One of many serial killers using an avocation to nursing or medicine, Jane Toppan was a nurse who had access to both medicine and victims with little or no supervision. But many experts attest that Jane Toppan was less a programmatic serial killer than simple an insane woman whose access to medical resources enabled her to end life in the double digits.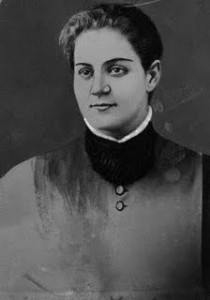 The rare female serial killer, Toppan used her medical resources to experiment on patients with fake charts and using strychnine and atropine. Dubbed the "Angel of Death" from later newspaper reports, Toppan "topped" over seventy victims in her New England hunting ground. Getting private income from members of the public as a private nurse and earning respect as a ward sister, Jane Toppan has institutional credibility in an era when public knowledge of clinical medicine was rare.
Jane Toppan needed no vehicle to cruise for patients. As a nurse at Cambridge Hospital, they were already within her purview. While initially her victims were patients she disliked, there is no reason to suppose anyone was safe from her killer bedside manner. The epithet "Angel of Mercy" was common to nurses in the period. But Jane Toppan delivered a special meaning to about thirty human beings of which mercy played no part.
Born Honora Kelly in 1857, Jane Toppan was the name her life evolved her into. Who knows who "Honora Kelly" might have been? Jane's birth father and sister both went insane. Jane wasn't far behind. Adopted by the Toppans from a Boston orphanage at age five, Jane was raised in the shadow of her pretty and privileged foster sister. Jane's memories of her "mother's" abuse would come back to haunt them.
(more…)